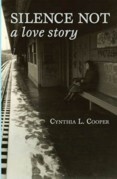 ~Works of Art -- winner of the Pen & Brush Playwriting Contest 2002 and the Nantucket Short Play Festival; a woman sculptor tries a creative approach to marketing. Short play.

~Silence Not, A Love Story -- During a time of economic crisis, a Jewish woman and Catholic man find love and courage in resisting the rise of the Nazis in Germany in the early 1930s. Full-Length play. Published by Gihon River Press. Premiere, Jerusalem.Reading, Primary Stages, NYC; PA, MN, NJ.

~Sentences and Words -- A ten minute play in which two women, the lawyer for a defendant and a victim's mother, struggle with the death penalty; in Rowing To America and Other Short Plays. Short play.

~Words of Choice Collage performances of shorts from several writers on reproductive freedom, woven into an ensemble performance. 20 states, 100 venues.

~The Spoken and The Unspoken Untangling the rape of Jewish women in the Holocaust and denials about it.

See more in PLAYS.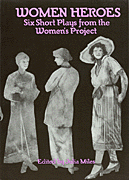 Running On Glass, a new play for two female performers (one black, one white) about remarkable women athletes, told in riveting monologues. "Hits the mark" "Compelling" "Engaging script"
How She Played the Game -- a one-person show about six spirited women from sports history; "inspiring" said Billie Jean King.

Also available: Go Girl Go, a version for K-7 young audiences featuring a girl in a soccer camp and for four female performers.

See more in PLAYS.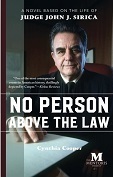 No Person Above the Law: A Novel Based on the Life of Judge John J. Sirica
The story of the federal judge in Washington DC who rose from a hardscrabble life to become a beacon of truth and integrity during the Watergate scandal. Judge John J. Sirica was named Time Person of the Year for standing up to executive privilege and those who held themselves above the Constitution and the law. "One of the most consequential events in American history, thrillingly depicted by Cooper."
See more in BOOKS.

Mockery of Justice: the true story of the Dr. Sam Sheppard Murder case; investigative journalism cracks open a 40-year mystery of who murdered Marilyn Sheppard, and studies the real story behind The Fugitive.

The tragic murder of Marilyn Sheppard was followed by other tragic murders in the Cleveland area. Why did authorities blame Dr. Sam and hide the evidence that showed his innocence, but pointed to a troubled windowwasher, Richard Eberling, finally arrested decades later for another murder.

See more in BOOKS.
Independent journalist -- magazines, websites, newspapers and television, garnering several awards along the way. Excel Award for Under the Influence.


Stories include:
~Women Judges Mobilize to Help Endangered Afghan Counterparts in Perspectives Magazine, ABA

~Holocaust Women's Rape Breaks Decades of Taboo in Women's eNews

~The Gulf Rush: Katrina workers are the latest catastrophe in In These Times

~A Cancer Grows: Medical Treatment in Women's Prisons Ranges from Brutal to Nonexistent in The Nation reprinted in TomPaine.com

~Help, Is It a Conspiracy?-- Drugs You're Being Blocked from Getting in Glamour Magazine

~Women Documentary Filmmakers as Social Activists in Women's Enews

~Touched by a Centurion -- Group works to free inmates in tainted capital cases in American Bar Association Journal (ABAJ)

~A Human Rights Community in the Ford Foundation magazine

See more in ARTICLES.
CONTACT:

Cynthia L. Cooper (Cindy)