An independent journalist, Cynthia L. Cooper's writing appears in magazines, newspapers, pamphlets, booklets, reports, on the web and in television pieces.
In scores of articles, Cynthia L. Cooper probes issues of justice and gender, human rights and human quirks. Drawing upon her background in law and politics, many articles crack through perplexing subjects in today's society; relying upon her abilities as a dramatist, other stories celebrate the work of progressives and trailblazers and even the role of the arts.
Cooper is a "hard-hitting author"
Emory Lawyer Magazine

"An extraordinarily perceptive and gifted writer"
Program Officer, Ford Foundation
Advocates Decry the Rise of Authoritarians, the Demise of Women's Rights, Perspectives Magazine, ABA, Nov 2023; Around the world, women's rights are being slashed and attacked by authoritarian leaders.


Generations of Women Lawyers Pay It Forward by Advocating for Title IX, Persepctives Magazine, ABA, Dec 2022; Fifty years after it was passed, Title IX is fostered by lawyers who keep passing the baton to assure equal opportunities in education for women and girls.

Women Judges Mobilize to Help Endangered Afghan Counterparts, Perspectives Magazine, ABA, Feb 2022; Relieved of duties, targeted by criminals, Afghan women judges are sisters-in-need. Also see, Video from the ongoing Afghan Women Judges Visual Storytelling Project.

Judging Jurisdiction: Federal and Tribal Courts in Oklahoma Grapple with the Aftermath of McGirt, American Bar Association Journal, April 2022: A Supreme Court decision changed the landscape for criminal cases in Oklahoma.
Racial Disparities in Maternal Mortality, the Legal View, American Bar Association Journal, Oct-Nov 2020: How law, medicine and social concerns converage on racial disparities in medical care.
Work-Life Imbalance: Pandemic Disruption Places New Stresses on Women Lawyers, Perspectives Magazine, American Bar Association, Dec 2020; Women lawyers across the country are experiencing rapid-fire adjustments.

How Deeper Dialogues Among Women Can Bolster Diversity and Inclusion, Perspectives Magazine, American Bar Association July 2021 Conversations try to break through unconscious bias

Firms team up to tackle systemic race issues, American Bar Association Journal, Dec 2020; New antiracism alliance seeks to undo racist underpinnings to law.
Coronavirus Cancellations Mean Revenue Loss, Potential Liability, American Bar Association Journal (ABAJ). April 2020; How to think about contract clauses and Covid19.
#MeToo Shakes The Legal Landscape on Sexual Harassment, Perspectives Magazine, American Bar Association, Summer 2018: A shift in the cultural lanscape is starting to reshape the law, too.
Why Bias against Creative Women Artists, Composers & Playwrights Falls in A Hole in the Law, Medium, Oct 2019. Anti-Discrimination laws are tagged to employment, not creative project.
Lawyers on Notice: Harassment and Discrimination Can Endanger Your License, Perspectives Magazine, American Bar Association

Republicans and Right-Wing Funders and Betsy deVos: An article from 2003 that connects Secretary of Education and then Republican funder Betsy deVos, the anti-abortion movement, and James Bopp, who led the campaign against disclosing financing of political ads and later became the lawyer on 'Citizens United.'

In Beijing, Domestic Workers Are Acting Out Their Tales, Women's eNews

In The Act Alone: German Resisters to the Nazi Movement, On The Issues Magazine

Holocaust Women's Rape Breaks Decades of Taboo, Women's eNews

Obama's Options on Surveillance, WhoWhatWhy.com
States Step Up Fight Against Human Trafficking, Perspectives Magazine

Women Raise Heat on Immigration Debate, Znet, Women's eNews

Gender Equality: Devil in the Details, On The Issues Magazine

China Convicts Prominent Lawyer Pu Zhiqiang of Speech Violations While Nominated for Freedom of Expression Award, Huffington Post

'Catch Me If You Can' -- How Bush and Cheney Attempted to Protect Themselves, But Failed, American Constitution Society
Activists Reignite the Fight for an Equal Rights Amendment, Perpsectives Magazine

More Moms Lose Kids in Family Court Drug Wars, Women's eNews

Death Penalty Lawyers, Despite Hardships, Are In It for Life, Perspectives Magazine, American Bar Association

Impeachment and the Media: Not for Discussion, Only for Derision , Extra! FAIR -- Fairness and Accuracy in Reporting

Trafficking Victims: Helping to Stop Abuse, Equal Justice Magazine

The Gulf Rush: Reconstruction of Gulf Coast is Another Disaster for Workers , In These Times

Terror Talk Crowds Out Context: Wiretapping Americans for foreign intelligence, Extra! FAIR -- Fairness and Accuracy in Reporting

Religious Right Discovers Investment Activism, Corp Watch

Not Grand Standing: The law should not treat grandparents who care for kids as second-class citizens, Equal Justice Magazine

Special Report: Pregnant Women Sent to Prison, Marie Claire Magazine

Crisis Situation for Native American Women in a Broken Legal System, ABA Perspectives, Read reprint on Turtle Talk

Private Eyes, Public Eyes: Function creep and the right to be left alone, Ford Foundation Magazine

News and Views--The future will look like South Dakota: A State Votes,Feminist Studies Vol. 12, No.1.

World premiere of NY composer Becca Schack by Melodia Women's Choir opens ears to the world , Vocal Area Network

Defending Their Lives: Domestic Violence Issues Crop Up In Every Area of Law, ABA publication

Learning to Laugh with the First Woman to Swim the English Channel, Women's Enews

Special Citation: Mayor, City of Providence, for outstanding work as a journalist and playwright.

EXCEL SILVER AWARD: Feature Category, for Under the Influence from Society of National Association Publications.

BLOGGING -- Talk2Action, Example:Wade Horn, Hand That Feeds and Wade Leaps.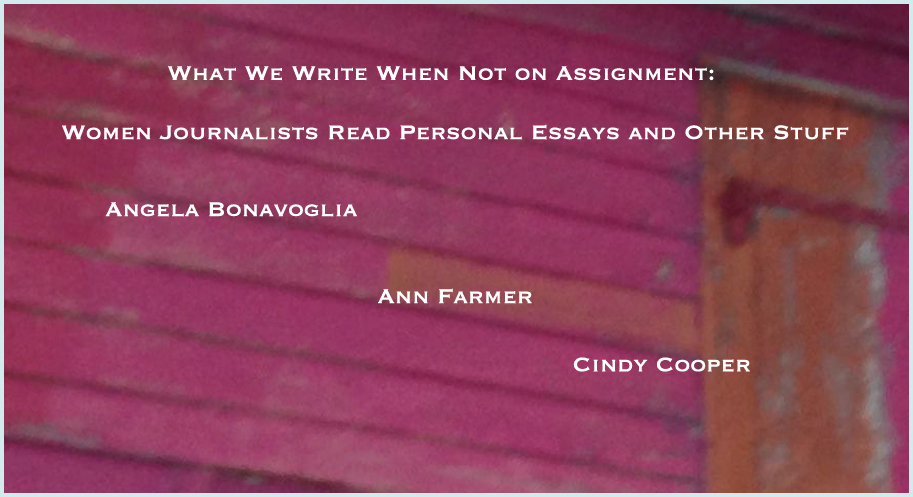 Magazines, Journals, Websites

A Few More Articles

A Cancer Grows: Women's Medical Care in Prison Ranges from NonExistent to Brutal in The Nation , reprinted in TomPaine.com

Women Documentary Filmmakers as Social Activists in Women's E-news

Abortion Under Attack in Ms. Magazine, reprinted in Human Sexuality, Twenty-Eighth Edition McGraw-Hill/Dushkin (Dec.2002)

Kathleen Collins, a lawyer with physical disabilities, is a pro at maneuvering around boundariesin ABA's Student Lawyer
Winner of APEX Award for Publishing Excellence

Sandra Day O'Connor Legacy, Women's eNews

From Day One, Streams of Women Pour Out Katrina Disaster Relief in Perspectives Magazine, ABA

Touched by a Centurion -- Group works to free inmates in tainted capital cases in ABA Journal

A Human Rights Community in Ford Foundation Report

Complementary Medicines in Mamm Magazine, a journal about women and cancer

Second Sex First: HIV and Women in Bejing +5 in Poz Magazine

Women of Color Pressing Reproductive Health Agenda in Women's Enews

Vulnerable Immigrants Seek Relief in Equal Justice Magazine

10,000 Lawsuits in the Naked City: Cite-Seeing Tour of New York's Legal Landmarks in the New York Law Journal

For Trial Buffs, It's Like Watching a Soap Opera in the New York Law Journal

Obstacles Confront Women in Prison and the Women Who Advocate for Them in Perspectives Magazine

Life, Interrupted: Reproductive Damage from Chemical Pollutants co-authored with Margie Kelly in Women and Sustainability Special Issue of Candian Woman Studies (Les Cahiers de las Femme)

Enviros and Pro-Choicers Join Forces in TomPaine.com , and Working for Change.com
Reproductive Rights Fight Moves to Environment in Women's eNews, co-authored with Margie Kelly


Museum Displays Contraceptives from Past Eras in Women's eNews

Playing God -- Bioethicists, a new class of consultants, juggle principles of law, medicine and philosophy in California Lawyer

Help, Is It a Conspiracy?--Blocked from Getting RU-486 The Abortion Pill in Glamour, reprinted in Vogue Taiwan

Women In Black Stand Silent, Oppose War in Women's Enews

First Amendment on Trial in Odyssey Magazine

Polls on Abortion Can Be Misleading in Women's Enews

Suffrage in Y1900: Women Lawyers at the Start of the Twentieth Century in Perspectives on Women and the Law

Are Victims Rights Wrong? in The Fifth Estate on Vote.com

Chattahoochee: Going Down the Drain in Creative Loafing

Presentation: Sexual Assault and Domestic Workers, International Congress of Historical Sciences with the International Federation for Research in Women's History, Jinan, China


OTHER ARTICLES in varied publications; Request further information by going to REACH ME.

Pamphlets, Booklets, Newsletters & More
SELECT

Business Leaders for Sensible Priorities, Newsletter * People's Rights and the Law: Series * Teaching Law * Court Guide to Public Information * Medical Malpractice Newsletter * Matrimonial Law Newsletter * Product Liability Newsletter * Alternatives to the Law, Newsletter * Reproductive Freedom Newsletter * The Parenting Project Guide * 25 Years of Civil Rights, Lambda LDEF * Targeted Investments, NYC Comptroller * Amnesty International * Open Society Institute (OSI) * PepsiCo * HIAS

"Sexual Endangerment in the Home: Domestic Workers and Reproductive Rights," 22nd International Congress of Historical Sciences, Jinan, China * "Medical Experimentation on Prisoners": New England Journal of Prison Law * "Resitution As An Alternative to Incarceration": Emory Law Journal *"News and Views on South Dakota": Feminist Studies.

Editorials, Op-Eds, appearing in: Glamour, Los Angeles Times, Newsday, London Observer, New York Times, Knight Publications, USA Today, others.
Documentary Project: Afghan Women Judges Visual Storytelling Project
Producer, Head of Investigative Team, ABC Affiliate, Mpls.
Producer, On Your Behalf consumer reports
Producer, Crimestoppers
Pilot, National Law Journal: You and the Law
Out of Court: Alternative Dispute Resolution
Video shorts, Women's Health Network
Independent Productions, NYC
Consultant: Nova; CBS TV movie; Wind Dancer Films; Old Dog Productions


Positions, Awards, Associations

SELECT AWARDS

Anne E. Fisher Champion of Choice Award,NARAL Pro-Choice America
EXCEL Silver Award (Feature) Society of National Association Publications for Under the Influence
Special Citation for "outstanding achievements as a playwright and journalist devoted to women's history and to exploring the issues and challenges that mean the most to women", City of Providence, RI, Mayoral Citation, October 2006.
EMMA Exceptional Merit in Media Award,Part of Women's eNews team, 2010, on 'The Memo.'
SPECIAL Maggie Award to Women's Enews from Planned Parenthood Federation of America, for Reproductive Rights Coverage, April 2004
APEX Award for Publishing Excellence -- PROFILE: "Kathleen Collins, A Pro At Manuevering Boundaries"
Page One Award TV, Minneapolis
Cicero Award, Best Motivational Speech
Jerome Fellowship
Generative Fellowship CoreAlign, UCSF
Vision Award, Abortion Conversations Project
Thank You Award, Quixote Foundation
Best Book in Drama, ForeWord Magazine, Finalist
Other Awards: See Plays, Books

SELECT POSITIONS

Faculty, Columbia University, Strategic Communications and Communications Practice (MS Programs)
Prison Diary Project, Anne Frank Center USA (volunteer)
Editor, On The Issues Magazine, Online
Communications Strategies Consultant, Cooper Communications, NY
Communications Director, Center for Reproductive Law and Policy, NY
Speechwriter, Elizabeth Holtzman, New York City
Acting Features Editor, MAMM Magazine, NY
Managing Editor, Newsletters, New York Law Journal Publishing Company
Investigative Reporter/Producer: KSTP-TV
Director, Court Information Office, Supreme Court of Minnesota
Director and Founder, Community Legal Education Program, Legal Aid of Minneapolis
Founder, Legal Assistance to Women (LAW) Clinic, Minneapolis, Minnesota
Newspaper reporter, Cleveland OH.

MEMBERSHIPS

The Author's Guild
New York Newswomen's Association


Reach me:

Cynthia L. Cooper **

Cyn@CynCooperWriter.net **

@cyncooperwrtr (Twitter, Instagram)