Book Writing Panel, New York Newswomen, National Arts Club.
- - - - - Cooper is a "hard-hitting author ...." Emory Lawyer Magazine


___________________________________________________________
NEW:
NO PERSON ABOVE THE LAW: A Novel Based on the Life of Judge John J. Sirica by Cynthia Cooper
The story of the federal judge in Washington DC who rose from a hardscrabble life to become a beacon of truth and integrity during the Watergate scandal. Judge John J. Sirica was named Time Person of the Year for standing up to executive privilege and those who held themselves above the Constitution and above the law. From by the Mentoris Project, Barbera Foundation.
"One of the most consequential events in American history, thrillingly depicted."
"Research is impeccable."
"A skillful reconstruction of the gripping events in Judge John J. Sirica's life."
"Inspirational and historically captivating."
Book Talk: No Person Above the Law; The Life of of Judge John Sirica ... July 10, 1 pm, Cannon Free Libarary, Delhi NY
Hear a podcast about No Person Above the Law
Buy at AMAZON
Buy at BARNES and NOBLE
________________________________________________________________________

*CHEATING JUSTICE:
How Bush and Cheney Attacked the Rule of Law, Plotted to Avoid Prosecution -- and What We Can Do About It -- by Cynthia L. Cooper - Elizabeth Holtzman

Beacon Press

President George W. Bush and Vice President Cheney deceived Congress and the people to drive us into a war in Iraq; they claimed the right to wiretap illegally and to eavesdrop on citizens; and they authorized torture, unilaterally upending laws and violating international treaty obligations. Yet, both Bush and Cheney are audaciously unapologetic about their crimes.

Bush and Cheney, the authors argue, authorized and condoned behavior and practices that starkly violate human-rights principles and the rights of American citizens. New revelations, however, about the extent and depth of their crimes make the need for accountability imperative.

With Holtzman's legal expertise and Cooper's bold journalism, Cheating Justice explains why the nation needs to address the Bush-Cheney administration's abuse of power and manipulation of the law.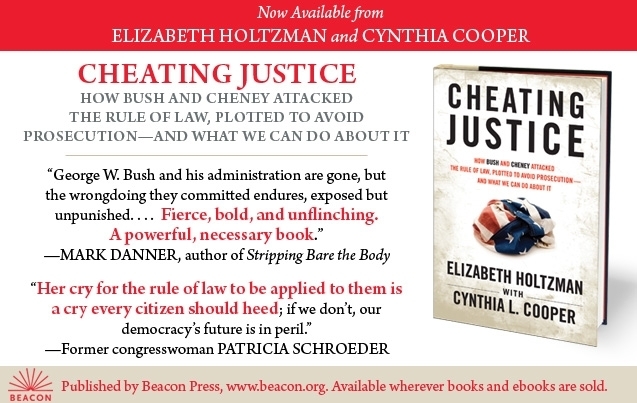 "Takes on the bigger, deeper and ... crucial task of investigating -- and exposing -- exactly how President George W. Bush and Vice President Cheney started an illegal war, subverted civil liberties, human rights and the law itself, and then used the national trauma following 9/11 to cover it up. Start to read Cheating Justice, and you won't be able to put it down." – Gloria Steinem, writer and feminist activist

"A book for everyone who is outraged--or just bewildered--that Bush, Cheney, and other top officials escaped prosecution for their many flagrant violations of the law...Passionately, clearly, concisely ...lays out how it happened, ... and how we can still hold the perpetrators accountable." — Katha Pollitt, author of Subject to Debate

"A vital contribution to addressing the abuses of the Bush administration." John Conyers, Jr., author of The Constitution in Crisis
Kirkus Reviews:
"A searing indictment of George W. Bush and Dick Cheney and their betrayal of the American people.

Holtzman, who served on the House Judiciary Committee during the proceedings against Richard Nixon, and lawyer/journalist Cooper (The Impeachment of George W. Bush: A Practical Guide for Concerned Citizens, 2006, etc.) explain why and how Bush and Cheney should be charged with crimes against the nation and convicted by a judge, jury or Congress — or all of the above. Their indictment is grounded in specific laws, which they ably explain for a non-lawyer readership. These include the False Statements Accountability Act of 1996 and Title 18, Section 371 of the U.S. Code, which sets out the parameters of conspiracy to defraud the United States through deceit. The authors duly cover the U.S. invasion of Iraq, the torture of arrestees during the so-called War on Terror and the wiretapping of American citizens. In addition to explaining why Bush and Cheney should be prosecuted in the United States, the authors set out the argument for governments of other nations to prosecute the former president and vice president. Without prosecutions at home and abroad, Holtzman and Cooper write, the rule of the law is meaningless. For the most part, the authors avoid discussion about the likelihood of Bush and Cheney being held accountable in court, and common sense suggests that with each passing year, such prosecutions become increasingly unlikely. However, Holtzman and Cooper note two groups that faced trial decades after their transgressions: civil-rights violators and Nazi war criminals.

A passionate book grounded in law."
Publishers' Weekly

...A detailed investigation into how the Bush administration broke the law. While much speculation has been made over the former president's awareness of the lack of weapons of mass destruction in Iraq before the declaration of war, this book barrels through his defense strategies to prove his guilt .... (The book) further examines how the Bush administration bypassed legality to set up wiretaps, tortured detainees, evaded internal investigations, and withheld government documents. It's an impressive effort...."

In the Name of Security
by Gary Reiswig
Easthampton Star
Cooper and Holtzman have written "a real eye-opener."

American Constitution Society Book Talk
on "Cheating Justice" by Cynthia L. Cooper and Elizabeth Holtzman
'Catch Me If You Can' -- How Bush and Cheney Tried to Protect Themselves, But Failed

When President George W. Bush and his team left office, mounds of misdeeds were left to fester. Some of their transgressions in office were so shocking – lying to Congress in order to embroil the nation in war and occupation, illegally wiretapping Americans without warrants, authorizing torture that had been outlawed by U.S. and international law – that he and Vice President Cheney probably should have been impeached and removed from office.

Instead, they completed their terms and sped away. Even though Bush publicly announced in his 2010 memoir that he had personally authorized waterboarding, a recognized form of torture -- "Damn right," he is quoted as saying – hardly a peep was heard about seeking accountability. But how can that be? Key to preserving our democracy is the concept that no person is above the law.

In order to ignite a national conversation on the topic, we set out to show how and why the president and vice president should be held accountable – especially, how they can be prosecuted. That meant looking at the available evidence, investigating precisely what laws are implicated and determining, as best as possible, whether a prima facie case could be made. We found enough to make a courageous prosecutor sit up and take notice, although the statute of limitations is ticking in some areas. We found clear problems under laws related to the conspiracy to deceive Congress, foreign intelligence surveillance and U.S. anti-torture laws – each of which needs prosecutorial attention.

Along the way, we found something else disturbing, too: a repeated pattern by which Bush and Cheney took extraordinary efforts to protect themselves from the sting of the law. In Cheating Justice: How Bush and Cheney Attacked the Rule of Law, Plotted to Avoid Prosecution – And What We Can Do About It, we look at both: how the ex-president and vice-president can be held personally accountable, but, also, how they tried to manipulate the system from inside to keep themselves from being held to account. See More.

Huffington Post -- Serious Business: President Bush and VP Cheney Should Take the Stand on War Lies by Cynthia L. Cooper

....Now we know that President Bush and his team lied repeatedly -- investigative researchers at the Center for Public Integrity documented 935 false statements about Iraq in the two years after 9/11 (memorialized in a song by Harry Shearer). More than mere harmless "pants on fire" posturing, these statements violate the federal criminal law.
See More.

'Catch Me If You Can': How Bush and Cheney Attempted to Protect Themselves, But Failed,' by Cynthia L. Cooper, for American Constitution Society

Huffington Post: "Serious Business: President Bush and VP Cheney Should Take the Stand on War Lies" by Cynthia L. Cooper

Announcement, Sample pages

Other commentary

New York Close-Up With Sam Roberts (2d segment), Cynthia Cooper, Elizabeth Holtzman, New York 1

Alternet Interview: Why This Is Important

'Un-Cheating Justice' Review by David Swanson

________________________________________________________
* Mockery of Justice
-- Publication in Hardcover, Northeastern University Press;
Publication in Paperback, Penguin/Dutton Publishing (Includes a new chapter)
MOCKERY OF JUSTICE: The True Story of the Sheppard Murder Case. Investigative Journalism. An explosive reinvestigation of a 1954 murder that became the model for 'The Fugitive,' exposing the official misconduct and forensic corruption that led to the wrongful conviction of Dr. Sam Sheppard for the murder of his wife Marilyn and the lack of pursuit of the true killer, a window washer who murders women again and again; results in the reopening of the case, is made into a CBS-TV Movie and unleashes copycat books; written with contributions by son Sam Reese Sheppard. Hardback, Northeastern University Press; Paperback, Penguin/Onyx/Dutton. 'Mockery of Justice' will take its place on a short list of volumes that have actually made history. The Washington Post. Relentless, compelling. Kirkus Reviews. Strongly recommended! Library Journal. The infamous case that Inspired 'The Fugitive,' People Magazine.

Especially intruiguing reading. All Things Considered, NPR. 'Mockery of Justice' is a riveting reinvestigation of the events surrounding the murder and trial....The combination of the sensational real-life events, the in-depth investigation and a writing style that successfully melds the two elements together, makes 'Mockery of justice' an excellent reading choice. Harvard Law Review.

Articles and Appearances: Dateline feature (multiple times); Inside Edition; Nova Documentary; CBS TV-Movie; Nightline; Court TV; MSNBC; Today; Good Morning America; Burden of Proof; WNYC; NPR--All Things Considered; Coast to Coast; America's Talking; Diane Rehm Show; Lionnell; Voice of America; ABC World News; NBC Real people; BBC; New York Times (National, Week in Review); Washington Post; National Law Journal; APB.com; Chicago Tribune; Chicago Daily Herald; Akron Beacon Journal ('Haunting Questions, series); San Francisco Chronicle; USA Today; Newsweek; People; Penthouse; Cleveland Magazine; Human Rights Magazine; Fox 5; Miller's Law; Jom Bohannon; Cleveland Plain Dealer; Pittsburgh Post-Gazette; The Guardian (UK); Semana Magazine (Bogata, Columbia); Boston Globe; Publisher's Weekly feature ('Notorious 1954 case gives Northeastern U.P. its biggest book ever'); TV documentary -- Court TV, elsewhere; American Lawyer; LA Times; CNN; Real Life (NBC); CompuServe Convention Center; WABC; Discovery Documentary; CBS News; ITN; OTHERS. Speeches at colleges, libraries, associations.
_____________________________________________________________
*Dear Anne Frank: Diaries from Behind Bars -- Manuscript by Cynthia L. Cooper and Maureen McNeil
 
Inquiries: cyn@cyncooperwriter.net
Diaries of prisoners from across the U.S., as they write in response to reading the Diary of a Young Girl by Anne Frank, working with PEN America and the Anne Frank Center USA.

An evening of readings: Museum of Tolerance, NYC. Bio, Maureen McNeil

Awaiting publication.
______________________________________
*The Impeachment of George W. Bush: A Practical Guide for Concerned Citizens
by Elizabeth Holtzman with Cynthia L. Cooper
The Nation Books and Avalon Publishing Co.

Did President Bush committed impeachable crimes? A powerful and passionate look at the facts and evidence, using the Watergate hearings as the standard of measure. A "clear, lucid, and damning book that reveals why the President of the United States of America has committed high crimes and misdemeanors."

Elizabeth Holtzman, a member of the House Judiciary Committee during Watergate and the vote on impeachment of Richard M. Nixon, finds grave and serious abuses of power by George W. Bush on falsehoods taking the country to war, permitting torture, electronic surveillance without a warrant, reckless endangerment of human lives in Katrina, and more. This book, by Holtzman and Cooper, points to the high crimes and misdemeanors of the President Bush, actions for which he should be impeached and removed from office. People willing to stand up for the Constitution can make it happen.
Publisher's Weekly: With the midterm elections—and the possibility of majority shifts in both the House and Senate—talk of presidential impeachment is in the air. Holtzman, former congresswoman and Brooklyn D.A., and Cooper, a journalist and lawyer, have assembled a compact but thorough legal and constitutional accounting of five major issues upon which they claim the current president could be impeached ....While the authors have a clear political agenda, their book also provides a useful guide to the theory behind and the legal mechanisms of presidential impeachment, clearing up many misunderstandings readers might have,such as the fact that "high crimes and misdemeanors are not limited to actual crimes" .... The book argues its points based on examples from the impeachments of Nixon and Clinton (Holtzman sat on the House Judiciary Committee during the Nixon impeachment). While this volume will be read and cherished by those who agree with its political stance—and dismissed and argued against by those who don't—it's an important, comprehensive argument and document for our current political moment.`

Library Journal "They present a well-organized brief for lay readers, arguing that Bush should be impeached for deception over the Iraq war, illegal wiretapping, condoning torture, reckless indifference to human life during Hurricane Katrina and in Iraq .... They also offer advice to citizens who favor impeachment and a short appendix of pertinent legal documents.... (R)ecommended for public libraries and for those academic libraries seeking to document contemporary politics.

Questions for Karl Rove -- and President Bush San Diego Union, March 2007.

Book of the Month Crooks and Liars, July 2007.

The Media and Impeachment FAIR Extra! July/August 2007.

Impeachment on Trial The Culture Project, NYC, why the president's actions during Katrina are impeachable offenses-- see here, and here and here.
________________________________________________________________________
*Insider's Guide to the Top Fifteen Law Schools
Doubleday

An inside look the environment, opportunities, and programs at top law schools, with information and anecdotes drawn from on-site visits and hundreds of interviews with those who attended the institutions. Hardcover and paperback. Guidance to help propsective law students recognize why, where, and how they want to learn the practice of law. Denise Perry Donavin, Booklist. Succinct and fair ... much more than facts-and-figures approach.... it may help students stop thinking about which school is 'best' and start thinking about which school is best for them. Rex Bossert, Daily Journal. If you really want to be of some help and point someone in the right direction, recommend Cynthia L. Cooper's 'The Insider's Guide to the Top Fifteen Law Schools.' The information and emotion conveyed are.. frank, direct, and above all else fair and impartial... A resource I wish I had had." Sandra Nachshen, New York University Commentator. What really makes Cooper's book interesting are the brutally honest appraisals, the gossip, and the sassy digressions. Student Lawyer. 'Pierces the catalogues' of the top-ranked law schools and finds out what it is really like to attend them. Joan C. McKenna, Legal Intelligencer. "Strips away Ivy curtain." San Francisco Banner. An invaluable resource." New York Law Jounral. Law newspapers, radio, Podium, National Law Journal, NY Observer. Out of print.


*Homeowner's Legal Guide
by Consumer Reports Publications; Named to the Book-of-the-Month Club; Law 'How-To' Best Seller

A comprehensive reference source to help homeowners prevent legal tangles and solve them if they arise. Law How-To Best Seller. Book-of-the-Month Club. Current, savvy, and informative. Essential for public libraries."--Joan Pedzick, Library Journal."An eye-opening primer covering the gamut of homeowners' rights and responsibilities."--Pamela Gaynor, Post-Gazette. "Explains still too-little-known worlds." Booklist. Well organized and succinctly presented." Publisher's Weekley. Clear and straight-forward." Phil Ebersole. Gannett. Key information. Consumer Information and Dcoumentation Centre of the IOC. Appearances: CNBC, WNBC, Radio, Newspapers. Out-of-print.
___________________________________________________________________

*Know Your Rights
Chief Editorial Consultant, Author (Co-), Spokesperson
Reader's Digest

Chief Editorial Consultant, Author (Co-), Spokesperson.
Easy-to-understand and quick-reference guide to legal rights on employment, consumer protection, home, community, health care, family, legal system. Out-of-print.APPEARANCES, live, call-in, taped: Good Day New York; CNBC; USA Radio Network; Reuters; Everybody's Business; Business Radio Network; Bloomberg Radio; Strand Broadcasting; WNYC; Fairfield Exchange TV; Weekend Today WNBC; Wisconsin Public Radio; Armed Service network; The Law Show; NBC radio; News 12 Morning Edition TV; QVC; newspapers, magazines.

_____________________________________________________________

*Who Said it Would be Easy: One Woman's Life in the Political Arena,
Elizabeth Holtzman with Cynthia L. Cooper
Arcade
(No Image)

Fighting injustice and corruption as a woman in political office, ranging from serving on the committee investigating Watergate to challenging the the treatment of rape, domestic violence and sexual assault, makes for life in a crucible.

The Editors Recommend, The San Francisco Chronicle. Recommended Reading, The Midwest Book Review. Thick with juicy New York anecdotes and behind-the-scenes strategies, the book also shines with fascinating ... legislative precedents. San Francsico Chronicle. A compelling, dramatic account of a remarkable career. Publisher's Weekly. Engaging recollection ... a quick read ... a watershed for women officeholders." New York Law Journal. Compelling reading. Paul Starobin. National Journal. A female David against Goliath. New York Post. Fascinating story. The Midwest Book Review. Excerpted: Voices of Thinking Jewish Women Biblio Press, compiled by Prudence Wright Holmes.

_____________________________________________________________

Other Books:

*Tips and Hints to Make Your Life Easier (Reader's Digest), Contributor

*Court Guide to Public Information

*Teaching Law in Schools and Communities

*People's Rights and the Law [series]

*Preparing Tomorrow's Parents Today Contributing Writer

*Human Sexuality, 28th Edition McGraw Hill/Dushkin, "Abortion Under Attack."

*O'Connor's Legacy: Landmark Decisions on Rights of Women and Minorities Jane E. Stromseth & Cynthia L. Cooper contrs., New York: Women's eNews.

*Canadian Woman Studies, An Introductory Reader, (Anthology) Second Ed. Inanna Publications & Ed, Toronto; ~"Life Interrupted: Reproductive Damage from Chemical Pollutants," Cynthia L. Cooper and Margie Kelly; (publication pictured below).
Women in A Globalizing World: Transforming Equality, Development, Diversity and Peace (Edited by Angela Miles, Inanna Press, CA 2013). Anthology: "Life, Interrupted: Reproductive Damage from Chemical Pollutants -- Alarm Growing Since Rio," Cynthia L. Cooper and Margie Kelly
____________________________________________________________________
Also see PLAY PUBLICATIONS for theater works.

Including publications by The New Press, Holt, Heinemann, Applause, Smith-Kraus, Gihon River Press, Dramatic Publishing, Human Kinetics, ESK, Papier Mache Press, Brooklyn Publishers, and others.
____________________________________________________________________

CONTACT INFORMATION

Cynthia L. Cooper
446 W. 47th St. No.1B
New York, NY 10036

Cyn@​​CynCooperWriter.net

@cyncooperwrtr
Twitter, Instagram

Also see-PLAY PUBLICATIONS